Effortless Wine Opening Made Stylish
Effortless Opening with Style
Unveiling the Perfect Blend of Convenience and Elegance
Introducing our Electric Wine Opener, the ultimate accessory for wine enthusiasts and connoisseurs. With its sleek and sophisticated design, this powerful device effortlessly removes corks, transforming the ritual of opening a bottle into a seamless experience. Say goodbye to the hassle of struggling with traditional corkscrews and embrace the future of wine opening.



Unleash the Flavors: A Wine Lover's Essential
Unleash the Flavors
Savor Every Note and Aroma with Precision
Unlock the full potential of your favorite wines with our Electric Wine Opener. Designed with precision in mind, this remarkable tool preserves the integrity of the cork, preventing any fragments from contaminating the liquid. By eliminating the risk of cork residue, our electric opener guarantees a pure and untainted wine-tasting experience, allowing you to savor every note and aroma to the fullest.
Equipped with advanced technology, our electric wine opener effortlessly and silently removes the cork in seconds, ensuring a seamless pour every time. The gentle whirring of the motor adds an air of anticipation, building up excitement as you prepare to indulge in your favorite vintage. Whether it's a quiet evening at home or a celebratory gathering, our electric wine opener is the perfect companion for enhancing the enjoyment of your wine.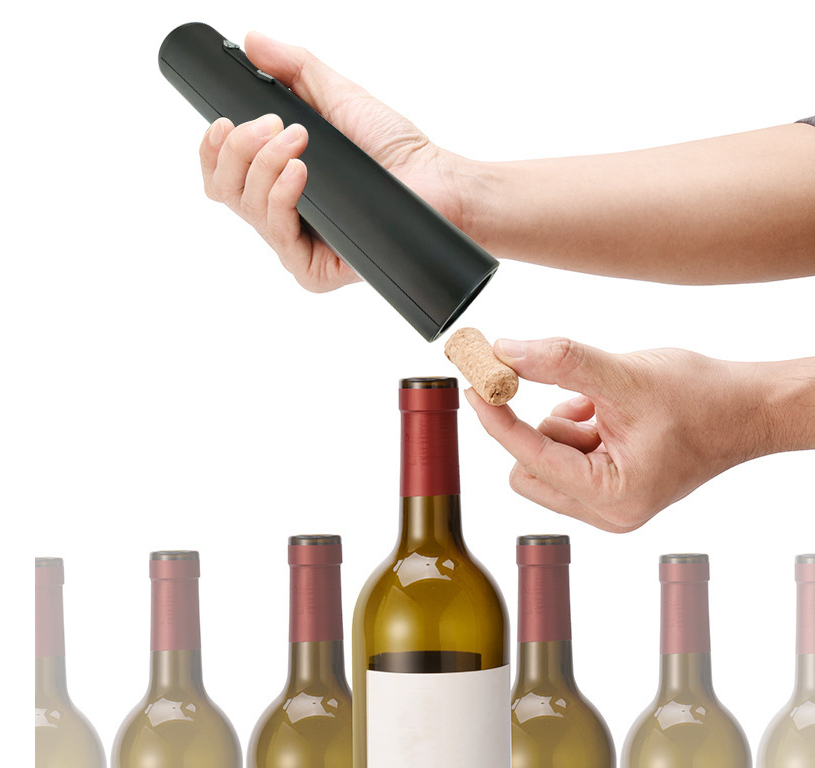 The Perfect Gift for Wine Enthusiasts
The Perfect Gift for Wine Lovers
A Stylish and Practical Delight for Any Occasion
Searching for the ideal gift for a wine lover in your life? Look no further than our Electric Wine Opener. Combining practicality and sophistication, this exquisite device is sure to impress even the most discerning wine enthusiasts. Its sleek design and effortless functionality make it a standout choice for birthdays, anniversaries, housewarmings, or any special occasion.
By giving the gift of an electric wine opener, you're not only providing a tool that enhances their wine experience but also a symbol of thoughtfulness and appreciation. It's a gift that will be cherished and utilized for years to come, reminding them of your impeccable taste and understanding of their passion for wine.
Product Details:
Product Type: Electric Wine Opener
Product Details:
Powerful motor for effortless uncorking
Cordless and rechargeable for convenience
Sleek and ergonomic design
Removes cork in seconds
Compact and portable
Preserves the flavor and integrity of your wines
Compatible with all standard wine bottle sizes
24/7 CUSTOMER SERVICE
Our team is at your disposal for any questions about our articles or your order.
SECURE PAYMENTS
The management of our online payments is 100% Secure with Stripe and Paypal.
SATISFIED OR REFUNDED
We offer a Satisfied or Refunded guarantee for 30 days after receipt of the items.